Maxine
Victor
Maxine Victor i dialog med Nina Bondeson.
K som i katt
Tillägnad Nina Bondeson
K som i katt. H som i hatt. G som i glass. O som i Ost. S som i sol. R som i ros.
'Tis but thy name that is mine enemy. What's Montague? It is not hand nor foot, nor arm, nor face nor any other part. What's in a name? That which we call a rose by any other name would smell as sweet.
I went to the flower shop one day. It was a lovely spring day, and the flower shop was overflowing with blooming blossoms and bountiful bouquets. It smelled like roses, it smelled like frangipanis, like magnolias and lilies and lavender. My dad once said to me: Never call a bird a bird. Never call a tree a tree, because as soon as you call it by its name you stop seeing the poor little thing. What you see instead is a B-I-R-D and a T-R-E-E, and what you're left with is a whole lot of loneliness in a world that is so quick with words, and so slow to see.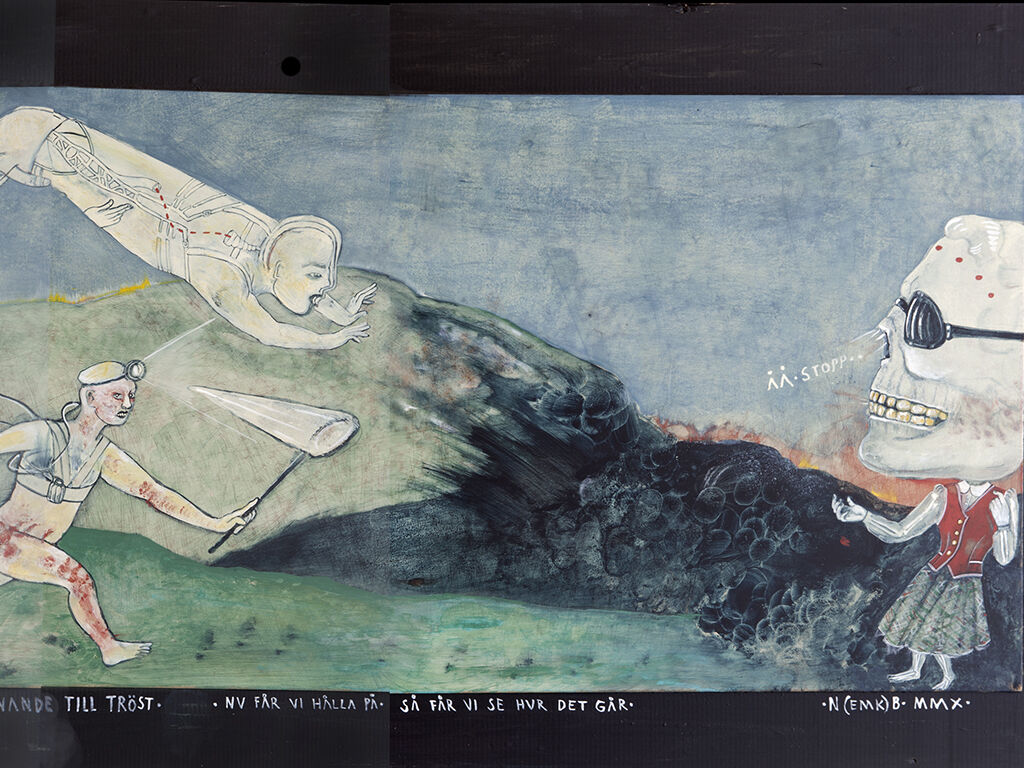 So there I was in the flower shop wanting to buy some roses and I was sure that my dad was right. Little old me sure as heck won't be making that mistake of calling a rose a rose. And Romeo and Juliet were 431 years old so they definitely knew what they were talking about when they said a rose would smell just as sweet by any other name. So I pointed to that bright red perfume-smelling thing and said:
"I would please like a large bunch of any of that wild or cultivated, usually prickly-stemmed, pinnate-leaved, showy-flowered perennial plant."
And the lady whom I suppose was the florist looked at me with great big eyes and didn't say a word. I was surprised, and then I was worried that she didn't know what I was talking about, and so I quickly said:
"You know that fragrant organism noted for both its beauty and its thorns, cultivated from remote antiquity…?"
And still she just stared at me with her great big eyes and her big black glasses without saying anything. I was getting flustered and I was running out of definitions and descriptions and I was secretly getting very cross with my dad because I was sure that the florist thought that I was nuts when she suddenly rolled up her sleeves, cleared her throat and said:
"Vi är alla hypotesmakare."
Now it was my turn to turn and stare at her in disbelief. What did she just say?
She shrugged her shoulders like it was totally no big deal and she said:
"Vi är alla hypotesmakare. Vi försöker, i stort och smått, bringa reda i det mysterium som livet är. Det finns människor som kommer hit och tappar hakan. De blir överväldigade av alla dessa färger och lukter. De famlar efter ord för att beskriva vad de ser. De säger: Kloster. De säger: Bordell."
I thought, bordell. Hmmm what a nice-sounding word. If I were to get a puppy I would definitely call it something nice like Bordell. Kloster is also cute. I would call my fish Kloster. I thought that this lady with big black glasses had a nice voice. I didn't understand a word she said but I wanted her to continue talking, and so I nodded excitedly as if I understood. I think she felt encouraged because she smiled a serious smile and she continued:
"I min trädgård har jag två stora frågor: Vadan och Varthän? De växer starkt och stort i regn och sol. I min trädgård går det slangar: det går slangar av elektricitet. Om de kopplas rätt så uppstår det frukt: dekadenta äpplen och ananas och persikor som dryper av sötma och saft. Jag skördar alla dessa frukter, jag klyver dem itu. Köttet kör jag in i munnen. Det smakar färg och förlust. Jag gräver i jorden, med bara händer gräver jag i den svarta våta jorden mättad av begär. Vadan min sorg och ångest och hunger? Varthän mitt tvivel? Varthän min tro?"
Oh my god, she's sounding really serious now, I thought to myself. I had no idea what she was saying but I knew that things were getting pretty intense. I didn't know what I had gotten myself into when I wandered into this shop. I just wanted to get a nice bunch of flowers. I was worried that she was sad. I was worried that she was worried. I was worried that she knew something that I didn't know. And while I was worrying about being worried I felt a hand on my arm and I heard a warm soft voice that said to me:
"Ögat är glupskt. Det slukar ljuset och retar kroppen till upphetsning. Litteraturen är gammal och handen är tyvärr så ung. Bli inte förledd av solen och värmen därute. Dröj lite innan du kastar dig ut, för handen behöver hemmets inomhusliga hölje och stillasittandets långa uthållighet för att kunna skriva. När kroppen rör sig faller tankarna ur händerna som ålar ur revorna i en trasig håv, och då är texten förlorad. Att skriva är att träna att sitta – stilla, länge och tålmodigt. Res dig inte om någon knackar på dörren. Res dig inte om någon ringer i telefonen. Sitt kvar även om du känner igen rösten från andra sidan, så kommer du till slut att bli belönad av skrivandets långsamma blomning."
I kept my head bowed low. I didn't know if she was going to continue speaking to me. I was afraid that she would stop; I was afraid that she would continue. I wish I could tell her that I understood, I wish I could say that she wasn't alone in this great big flower shop bursting with colour and life, but I couldn't bring myself to lie because she was indeed a singular and solitary figure, and the flowers that were alive today would no longer be when tomorrow came. I started tearing up and soon enough I was crying like a baby. My nose was runny and I had tears and mucus and snot all over my face. I was a mess and to think that I didn't even understand a word of what she said! I was embarrassed beyond belief. I dug around in my pockets for some tissue paper and I started panicking because I found none and my nose was streaming and my eyes were streaming, so I started wiping my face with my sleeves like an overgrown child – and that was when the most astonishing thing happened. I still can't believe it as I'm telling you this. But there I was sniffing and snorting and wiping my face with my sleeve when all of a sudden my throat opened and my tongue awoke with a fierce and frightening purpose, and beyond my wildest dreams I suddenly heard myself saying:
"Är detta den skapande människans lott? Man gör sina val för att kunna skapa. Man gör sina uppoffringar för att välja sitt skapande framför allt annat. Men vem har tiden på sin sida? Vad blir det av all denna skam och skuld och vrede när andan tar slut? Vad oroligt det är däruppe på vattenytan, där världen är. Där finns ljud, så mycket ljud, så många skrik, fågelvingar som slår, vindkast, och värst av allt: solen. Ljuset bränner den som är urholkad och flyter på vattenytan utan vare sig hud eller skal eller förmåga att ta sig tillbaka till djupet. Jovisst vill man stå i ljuset. Jovisst vill man bli sedd. Men hur ska man kunna be solen om att skina lite mjukare, och med lite mer ömhet när det ligger i solens natur att brinna starkt och bränna allt som inte tål dess sken? Hur ska den som skriver och målar kunna göra sina bekännelser utan att bli bränd? K som i konst. K som i kris. O som i ord. O som i ond. M som i Mamma. P som i pappa. H som i hem och hål och hund."
Goodness no, I didn't get any flowers that day. I don't even remember how I got home. All I know is that I said all those strange things in a tongue that I didn't understand and then I stumbled out of that place and blacked out. I don't know what came over me, it was as if I was possessed. A part of me longs to go back there, to see that florist again, but I'm afraid that I had made a fool of myself, and what's even more horrifying is if she actually understood all of the gibberish that poured out of somewhere inside of me that was not supposed to see the light of day. I can't go back, I just can't. Not right away at least. But some day, I'll garner enough courage and I'll go back to her, not to buy an R-O-S-E, but to simply stand at the threshold of her universe, and to listen with slow and careful attention when she holds her paintbrush in her hand and says:
"Dumma flicka, kära flicka, oroa dig inte. En bild, som en blomma, är rödare, kraftigare, envisare, trotsigare och odödligare än man skulle kunna tro. Dumma flicka, bry dig mycket, bry dig på nytt, det kommer att lösa sig. Det finns ingen hemlighet bakom det jag gör. Jag tar hand om mina bilder helt enkelt. Jag ger dem mina dagar och mina nätter, och även mina händer. Jovisst är läget vanskligt, jovisst välts det omkull utan förvarning. Men så länge man håller fast vid sitt skapande och tar hand om sina små blommor kommer man att kunna hålla oredan borta ett hjärtslag till."
Tillbaka till qalam