Exhibitions
Come in,
she said –
my room
is an eye
of a storm
NINA BONDESON
Date
20 May 2022 – 4 Sep 2022
Location
Göteborgs Konsthall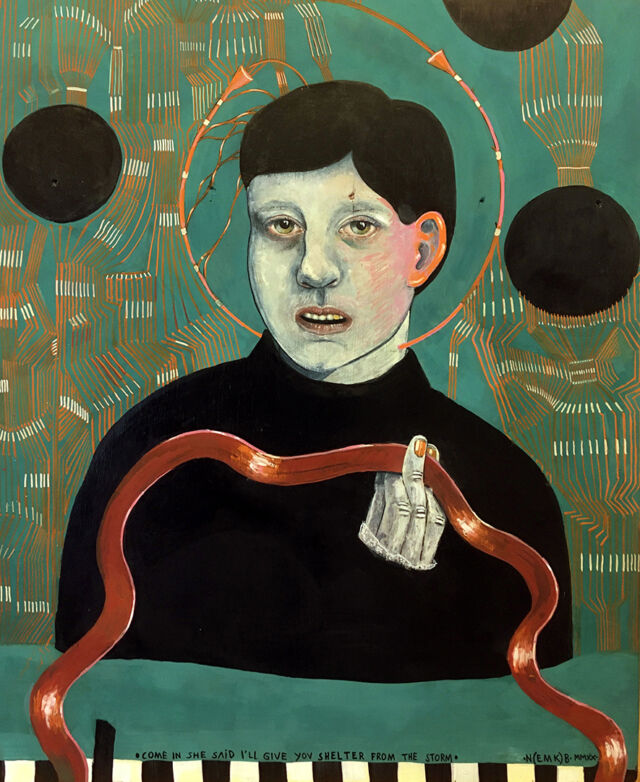 Nina Bondeson, Come in she said – I'll give you shelter from the storm. Courtesy Göteborgs konstmuseum.
We are pleased to present the exhibition Come in, she said – my room is an eye of a storm, featuring the Göteborg-based artist Nina Bondeson. This is the most comprehensive presentation so far of her 40-year practice and consists of nearly two hundred objects, juxtaposing recent paintings with selected earlier works.
The exhibition title is inspired by a quote from Bob Dylan, "Come in, she said, I'll give you shelter from the storm", and sums up the profound humanity and warmth that characterise Bondeson's artistic practice. The works in the exhibition convey contemplations on life, death, sexuality and the general worry over these three aspects of living. The motifs are carved from an existential darkness, often with a political edge and a dash of black humour.
Bondeson's works have the form and dramaturgy of winding stories, where imagery and poetic lines alternately blend and bicker. In paintings, prints, embroidery and sculptures, an array of motifs appears, meticulous and detailed like icons. In imaginative compositions, she lets fictional characters mingle with philosophers and dogs, owls, bears and rabbits, all of which are crucial parts of her seething universe. Shapes, signs and languages form a singular world of images, mixing the absurd and the playful with the violent.
This exhibition presents a unique opportunity to trace Bondeson's artistic imprint and experience how she has refined and developed her art into her own special language that has made a profound contribution to the Swedish contemporary art history.
In connection with the exhibition, we have invited the writers' collective Qalam to be inspired by Nina Bondeson. Read and listen to their new work for this project: Qalam interprets Nina Bondeson (in Swedish).

recommendation for the younger visitors
Go on a treasure hunt and look for mysterious and funny figures hiding in the exhibition! Ask at the reception and go on a journey of discovery among the works of art. When you are done, show the hosts at the reception what you've found and you get a small price!
Suitable for children aged 4-12 years. During our opening hours.