Exhibitions
Bring
back
lost
love
Kemang Wa Lehulere
Date
9 Feb 2021 – 15 Aug 2021
Location
Göteborgs konsthall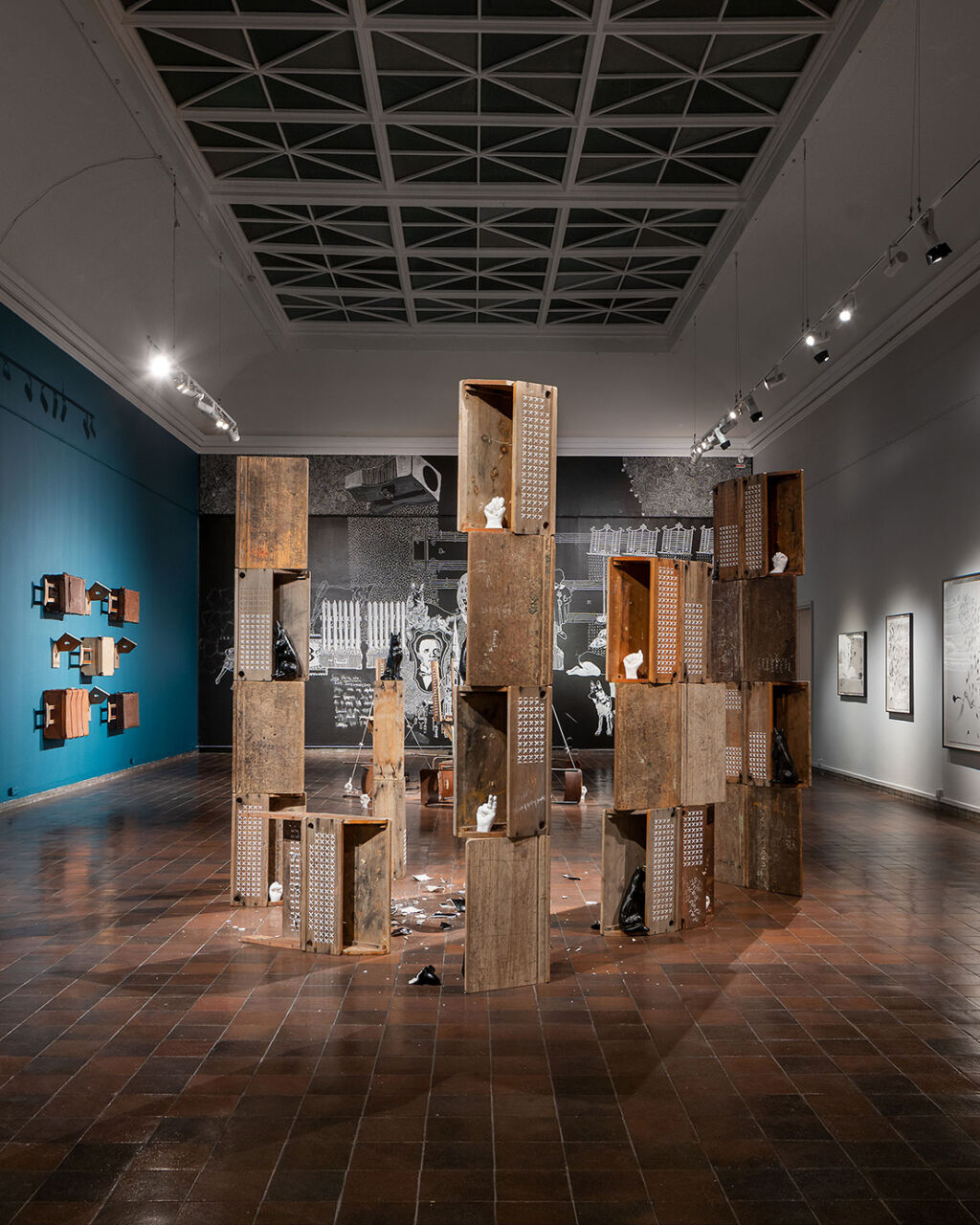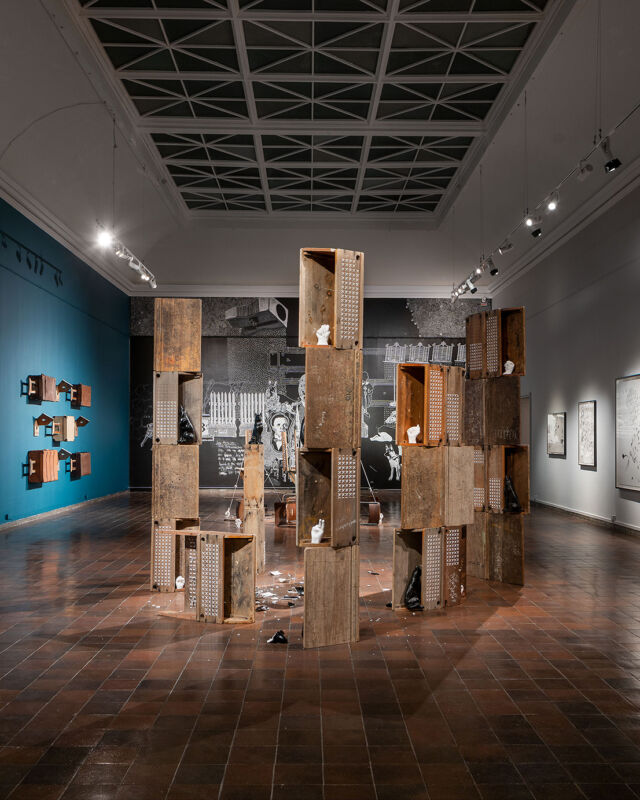 Kemang Wa Lehulere, Bring Back Lost Love, foto Hendrik Zeitler
Göteborgs Konsthall proudly presented the first Scandinavian solo exhibition of South African artist Kemang Wa Lehulere, one of the most recognized artists of his generation. The exhibition Bring Back Lost Love featured new sculptural works, installations and drawings.
Kemang Wa Lehulere explores the relationship between personal and collective histories, and how South Africa's violent past continues to haunt the present. Using found and repurposed materials, chalk, personal memories and texts, his poetic and layered works speak of suppression, unfulfilled dreams and voices that have been silenced or erased from official historiography.
In Bring Back Lost Love, Wa Lehulere excavate histories, both existing and imaginative, informative and fantastical. The show's title is taken from a term that can be seen on posters around the inner-city centers of South Africa. Here, Sangomas – South African traditional healers – offer their services in matters such as "solving money problems", "help with employment", "increase virility" to "clearing debt" and "help with luck". While the title alludes to intimacy between two people, it can also be interpreted as a macro expression for Wa Lehulere's interest in archeology and the idea of mining history and unearthing lost narratives, objects and poetry. As such the call to "bring back lost love" speaks to a desire to rupture the present and acknowledge that something has been lost or is missing – not least the relationship to the ancestral land that black South Africans lost as the notorious Natives Land Act saw the systematic expulsion of black South Africans from fertile to arid lands.
Employing a call and response strategy – synonymous with jazz – where a soloist "calls" for a "response" from their ensemble creating a rhythm and melody, Wa Lehulere presents a new body of drawings in collaboration with his aunt Sophia Lehulere. The drawings evoke the legacy of the late artist Gladys Mgudlandlu whose colorful landscape paintings speaks to the history of forced removals.
Another central theme in the exhibition is movement, and the limitations there of, migration and freedom. Wa Lehulere uses vintage leather suitcases, some handed down, some sourced from antique markets, in combination with crutches and other assemblages made from broken down school desks. These elements are found throughout the artist's oeuvre – in early examples, some suitcases are guarded by porcelain dogs whose guardianship evokes an unsettling association with the oppressive monitoring and surveillance of travelers of all kinds.
The suitcase, a potent signifier, evokes the fate of various historical figures, such as the German philosopher Walter Benjamin, who on September 26, 1940 was refused entry into Spain and later the same night committed suicide. Locked in his famous black leather briefcase was an important manuscript, that was never found. Equally, the crutched suitcases speak to the many South Africans who were forced into exile like the South African writer Nat Nakasa who left South Africa on an exit permit, relinquishing his citizenship and died in NYC on the 14th of July 1965 as a self-proclaimed "Native of Nowhere". Gaping suitcases are paired with these crutches – both objects intertwined and animated far beyond their original uses allowing for other possibilities. Offering alternative endings for old and new stories alike.