Exhibitions
WITH
NEW
EYES
– THE INTERWAR PERIOD SEEN THROUGH A LENS
Date
11 Dec 2021 – 27 Mar 2022
Location
Göteborgs Konsthall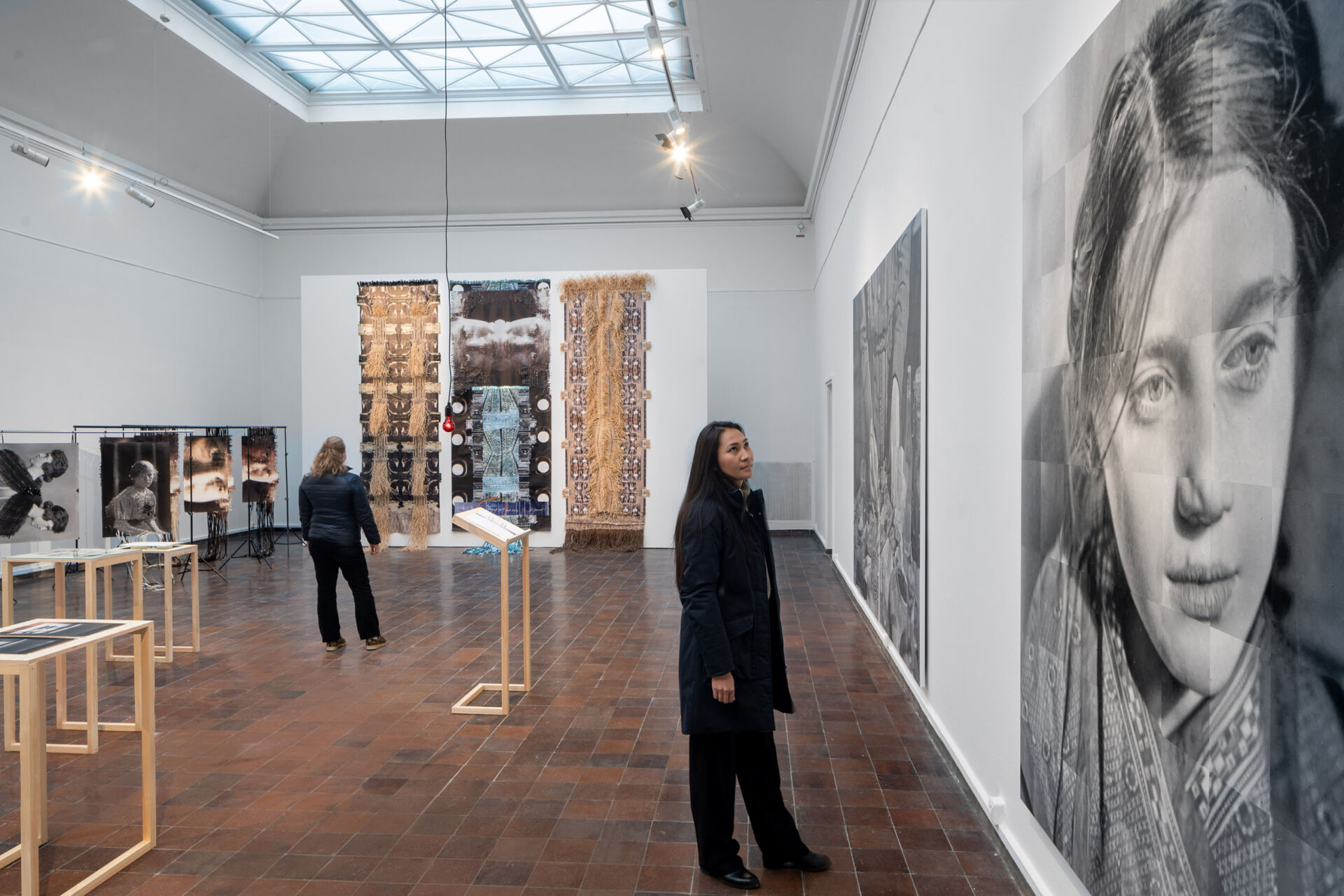 Installation view. Photo: Hendrik Zeitler.
Göteborgs Konsthall and the Hasselblad Foundation was hosting two exhibitions focusing on the years between the two world wars. The unique exhibition collaboration is part of the celebration of Gothenburg's 400 year anniversary.
In the exhibition With New Eyes – The Interwar Period Seen Through a Lens, contemporary artists process archival material from the first half of the previous century. Through video, photography, painting, installation, and performance the artists generate a dialogue between past and present. The exhibition shed light on various contexts in cultural history relating to themes such as national identity and national socialism, colonialism, queer history, women's rights, racial biology, and migration. Through these works, we were invited to reflect on historiography: how can we interpret and process historic material with contemporary eyes, what stories become known to the public, and what stories are forgotten.
Participating artists were Emanuel Cederqvist, Hanni Kamaly, Conny Karlsson Lundgren, Tomas Lundgren, Santiago Mostyn, Kristina Müntzing, Katarina Pirak Sikku and Lina Selander.
Based on the photo exhibitions of the Interwar period, The New Eye at the Hasselblad Center presented a wide assortment of photography and film practices from the years between 1919 and 1939. Besides bringing attention to the diversity and dissemination of photography and film, the material also reflected the visual culture in Gothenburg and Sweden – as well as internationally – during the Interwar period.
This was the first time Göteborg Konsthall and the Hasselblad Center collaborated on a dialogic exhibition. Links between the two exhibitions, and between now and then, appear in the form of thematic similarities. Originally the exhibitions were planned to take place at the same time, but the pandemic forced us to replan and the exhibition at Hasselblad Center was shown in May-September 2021 whereas With New Eyes opened at Göteborgs Konsthall in December.
THE INTERWAR PERIOD
The interwar years were a turbulent period in Europe. During 'the Roaring Twenties', the Western World was characterized by a remarkable economic, social, artistic and cultural dynamism – coupled with political currents such as internationalism and pacifism. Gradually, this gave way to counter movements in the form of fascism and Nazism, which later led to a new world war and the Holocaust in Europe.
Photography and film played central roles in the technological, social, political and cultural transformation that occurred during the Interwar period. Particularly in the 1920s new visual techniques and practices were developed in the fields of art, advertisement, industry and science. International exhibitions were arranged in Sweden in the 1920s and 1930s and became an important platform for the defining of and spreading of knowledge about the new photography and filmmaking and the areas they were applied in.
The exhibition was presented is developed in collaboration with Erika Larsson, postdoc at the Hasselblad Foundation / HDK-Valand Academy and her research project Feeling the Past.
Participating artists: Lina Selander, Conny Karlsson Lundgren, Tomas Lundgren, Santiago Mostyn, Hanni Kamaly, Kristina Müntzing, Emanuel Cederqvist and Katarina Pirak Sikku,