Exhibitions
THE MEMOR
LUNDAHL & SEITL OCH SCANLAB PROJECTS
Date
10 Aug 2019 – 18 Aug 2019
Location
Göteborgs Konsthall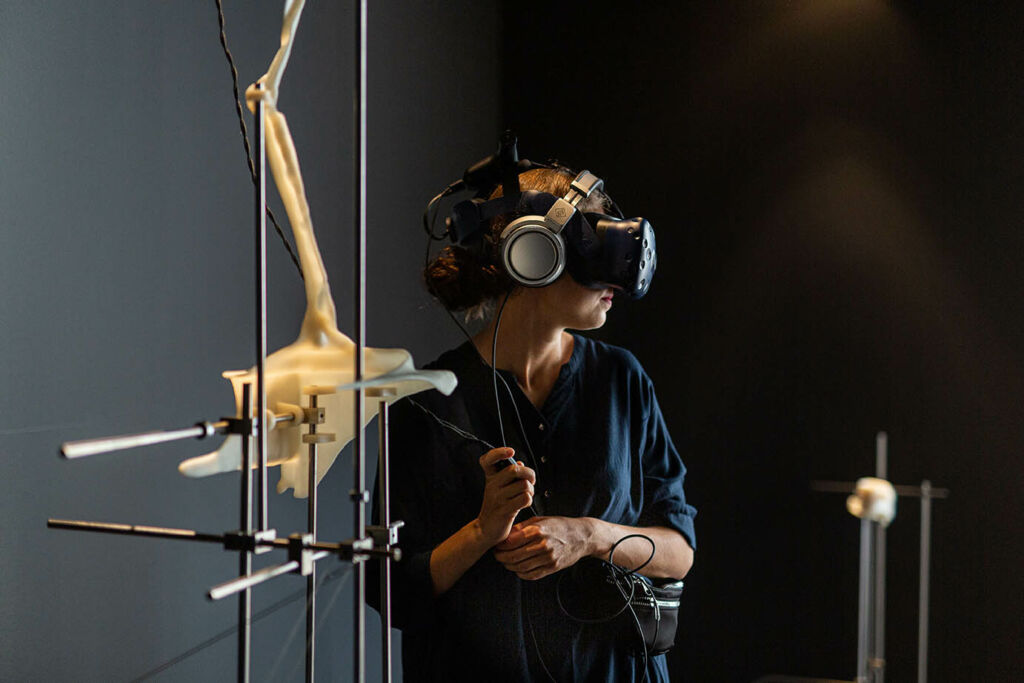 Foto: Hendrik Zeitler
The Memor is a choreographed and mixed reality installation by Lundahl & Seitl and ScanLAB Projects, presented at Göteborgs Konsthall in relation to the exhibition Fragmented Realities.
The Memor is a digital archive of buildings, landscapes, sounds, smells and traces of people. As a central part of the larger work Eternal Return (2019), The Memor takes place as choreographed events guided by a performer. It unfolds through virtual reality and hyper-connected objects.
The Memor consists of three such objects. Every object in the installation is the imprint of different layers of time as a trace of earth's past: a tea cup that once was on a workbench is held up by the weight of a 3.5 billion-year-old microbial mat. These objects are not artworks on their own but, together with the analogue choreography of the performer and the digital code, they function as triggers to retrieve the memory of the artwork taking place in the visitor's mind – like in a memory palace.
In general terms, memory is a change to a system that alters the way that system works in the future. Similarly, The Memor is a learning machine addressing the changing state and structure of memory over time as the bank from which we collectively pass knowledge over and across generations: what to fear, what to value, how to not die, how to care for the world of tomorrow.
A part of the expanded narrative of the installation is a science fiction novel written by Malin Zimm. The opening is followed by an artist talk with Lundahl & Seitl and ScanLAB Projects, followed by a seminar on the 17th of August.
Eternal Return (2019) is co-produced by STRP and supported by the Swedish Arts Grants Committee, Stockholm Stad and Swedish Arts Council.
LUNDAHL & SEITL AND SCANLAB PROJECTS
Lundahl & Seitl, Christer Lundahl and Martina Seitl, are pioneers of an immersive anti-disciplinary practice within contemporary art and performance. Through composed multisensory, spatial, and site-specific situations the duo creates conditions for experiences to take place within individuals, as well as to be shared by groups.
ScanLAB Projects is a pioneering creative practice, half art studio half research laboratory, led by artists/designers/technologists Matthew Shaw and William Trossell. The practice is formed around a shared passion for highly crafted making and storytelling that manifests itself in digital and physical works.
The exhibition was presented in collaboration with Folkteatern and Regionteater Väst with support from Region Västra Götaland.
Credits: The book Eternal Return – The Memor is written by: Malin Zimm J. S. Bach's Fugue in A Minor BWV 543 written for the organ, arranged by Liszt for piano, is performed by Cassie Yukawa-McBurney
Script and experience design collaboration: Rachel Alexander
Script Collaboration: architect and theorist: Malin Zimm
Performer: Pia Nordin
Lundahl & Seitl production: Emma Ward