Hystory
of Göteborgs
Konsthall
Göteborgs Konsthall was inaugurated during the Grand Jubileum
Exhibition, in connection with Gothenburg's 300th anniversary two years earlier.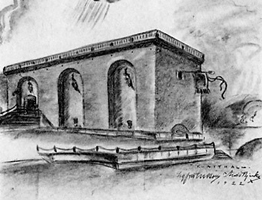 A Grand Jubileum Exhibition was shown in 1923 to celebrate Gothenburg's 300th anniversary which took place two years earlier. A number of buildings were constructed in connection with the event, among them the art hall Göteborgs Konsthall, Gothenburg Museum of Art , Liseberg amusement park and the botanical garden. Several buildings behind the art hall at the time of the jubileum are no longer standing.
An art exhibition showing contemporary Nordic art was displayed during the jubileum in the art hall and the art museum. The Norwegian segment of the exhibition, including works by Edward Munch, was shown in the building now known as Göteborgs Konsthall.
The art hall was designed by the architects Sigfrid Ericson och Arvid Bjerke, who also designed the art museum. Lomma Brick Factory delivered the distinctive yellow-gray brick used on the building's facades. The facade facing Götaplatsen includes three vaulted niches with sculptures by the artist Palle Pernevi.
Göteborgs Konsthall was designated a significant structure in 2017 by the County Administrative Board, with the motivation: "With its classicistic style, the building is characteristic for its era. Impressive and significant architectural and artistic elements are displayed in its interior and exterior spaces and surfaces".
Activities in Göteborgs Konsthall have been managed by various organizations since the building's inauguration. Since 2001, it is a division of the Cultural Affairs Administration, City of Gothenburg.